Collaboration with Coral Hayes Pananka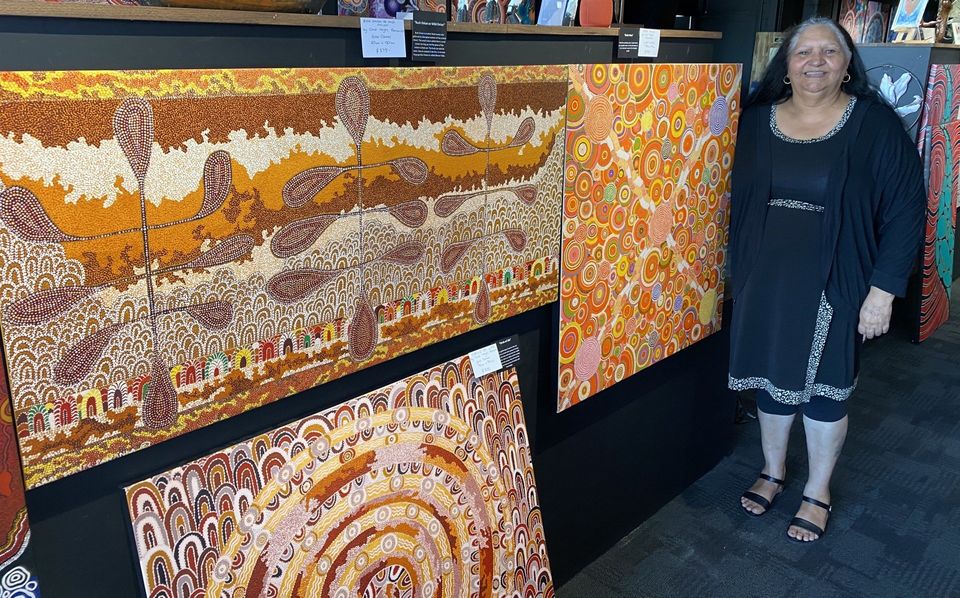 We are excited to welcome our newest artist to the gallery, Coral Hayes Pananka.
Coral Hayes was born in Balranald NSW to Kathleen Murray-Smith and Billy Hughes. Her bloodline runs from the Northern territory Arunta people, to the Kokatha people in South Australia and Yorta-Yorta And Mutti-Mutti People in Victoria. 
Coral's mother's totems are the Murray Cod from her father's side - The Mutti-Mutti People, and the Long Neck turtle from her mother - The Yorta- Yorta people. 
Coral's father was born in Alice Spring and is an Arunta man, his skin name is Ngwarre. His totem is Enterengetye, the Green Caterpillar, although for cultural reasons Coral does not have this totem. 
The totem Eritja, the Eagle, has been handed down through generations of Arunta women to Coral, and her skin name in Pananka. Her great-grandmother was born with the birthmark of Eritja on her leg. Coral believes that she paints through her father and her grandmother's spirits. Her Grandmothers are spirit women. 
Coral paints with pride and respect to her ancestors who guide her in her paintings. 
Currently, Corals work is a part of our Indigenous Reproduction collection . We have just received 10 beautiful pieces on our premium gloss canvas for sale in store and look forward to displaying original paintings by Coral in the future.
You can see her painting reproductions in our Reproduction collection here